Our Company - Weddings in Zakynthos Island
Alexandras Dream Weddings are leading wedding planners in Zakynthos with many years of experience. We offer a personal, bespoke and fully flexible approach to wedding planning so that your dream wedding can become a reality within your personal budget. As we get to know each other during the wedding planning phase you will feel confident in the knowledge that reliable and friendly support is always at hand.
We understand the responsibility of ensuring every detail of the planning of your wedding has been taken care of and it is our job to relieve you of the stress and worry that goes alongside the planning and lead up to any wedding. We want you to be free to focus on the more personal and fun preparations for your wedding such as choosing your outfits and colour scheme and making sure your bridal party are well prepared during the build up to the 'big day'.
'Our philosophy is that you do not see us just as your wedding planners
but as your friends who are always on hand with help and guidance whenever you need it'
Meet Alexandra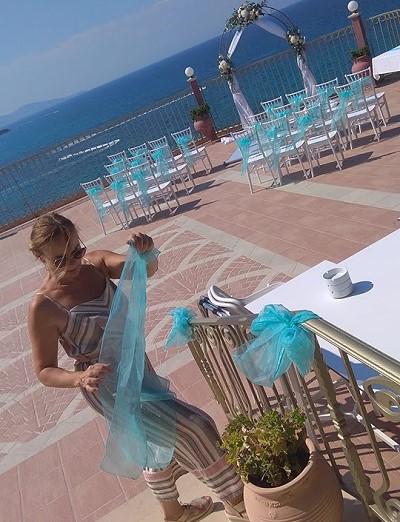 "I am one of the first and leading wedding planners in Zakynthos Island and have been successfully organising weddings for 22 years since 1997.
I have native English roots and have been living in Zakynthos since 1986 when I came here on holiday and met my Greek husband.
I speak fluent Greek and am thoroughly familiar with the local Greek culture which makes me perfectly placed to ensure your wedding will be everything you have dreamed of.
I am passionate about my job and pride myself on the fact that we are able to provide a highly professional and yet personalised and friendly service so that every couple feels that their perfect dream wedding is unique.
I look forward to guiding you through your planning and meeting you in person for your special day"

Alexandra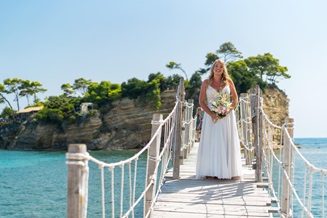 Why Choose Alexandras Dream Weddings
We will arrange your wedding as if it were our own so that you have the perfect wedding of your dreams and more...
* Flexible wedding packages to meet your needs and budget
* Confirmation of your wedding date and venue before you even pay a deposit
* No hidden extras in our prices.
*One to one personal service with step by step guidance all the way
* Available seven days a week for help on line, by telephone or skype with no limit on pre wedding emails, skype calls, and meetings during the planning stage
* No time limits for our pre wedding meeting or other meetings in resort
* Choice of meeting at our office or complimentary personalised service of coming to your hotel to save your valuable holiday time (and travelling expenses)
* We never plan more than one wedding a day and therefore provide you with a completely personalised service
* Native English experienced wedding planner who understands your needs exactly
We are an officially registered and legally licensed event planning business in Greece which deals exclusively in organising weddings with a personal touch. Unlike other companies offering weddings as a 'side line' we do not provide general travel services, excursions, car rental and accommodation and therefore do not fall under the umbrella of the Greek Ministry of Tourism (E.O.T) and the Hellenic Association of Travel & Tourist Agencies (H.A.T.T.A) as, contrary to misleading claims from other companies, these are not required in order to legally organise weddings in Greece.